After our first Ferrari experience, we were ready for the next item on the agenda: a trip to the Mediterranean, followed by a lovely massage!
After an exhilarating drive around the Barcelona hillsides, it felt wonderful to take off our shoes and board the sailboat that was waiting for us in the marina. This is a part of the Drive Me Barcelona's "Driving & Sailing Experience" package, which we thoroughly enjoyed.
– What would you like to drink; cava, juice, soda, water, beer or wine? asked Captain Vicky from Sailing Experience Barcelona, one of Drive Me Barcelona's partners.
Since we were in Spain, it felt natural to accept a glass of cold, fizzy cava. Minutes later we were sitting with wineglasses in our hands and the sun on our backs, while small waves lapped against the hull below us.
This article was made in collaboration with Drive Me Barcelona. All descriptions reflect my own opinion, and the business has had no influence on the content of this review.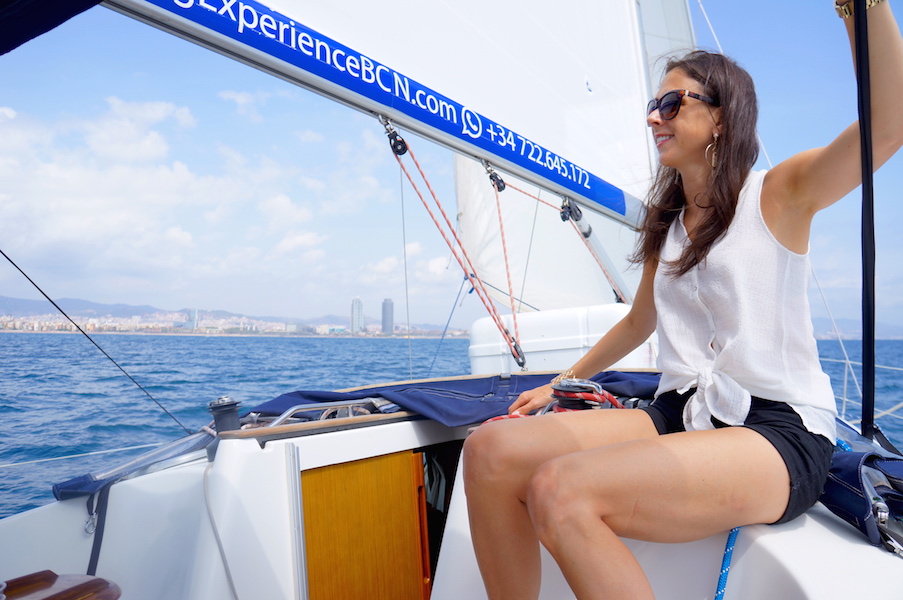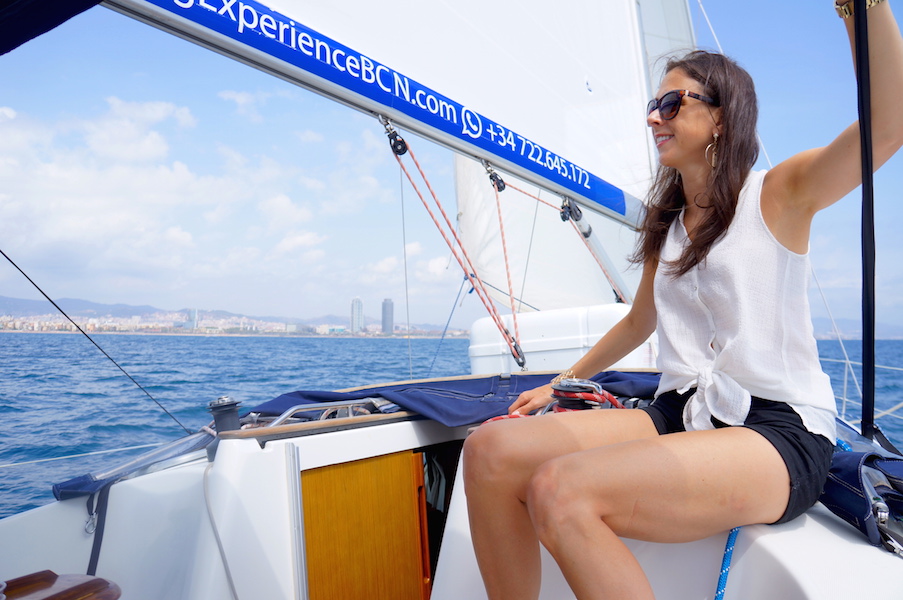 TAPAS ON THE MEDITERRANEAN SEA

As we left the new and old Barcelona port behind us, Vicky gave us important safety instructions. Henrik and I sampled the olives, cheese and ham placed on a tapas tray in front of us. Once we were out at sea, the captain set the sails. There was only one thing left to do: Lean back, feel the light sea breeze on our skin and listen to the cries of the seagulls.
– Who usually books these kind of tours? I asked Vicky.
– We have many couples, captain Vicky replied. And it makes perfect sense. Sitting close to the person you care about most and gazing over the Mediterranean Sea on a clear, sunny day with the wind in flapping in the sails… it's not exactly unromantic. In addition to the daytime tours,  Sailing Experience Barcelona also offers sunrise and sunset tours.
That being said, I am sure this sailboat trip certainly would have been just as fun with my friends!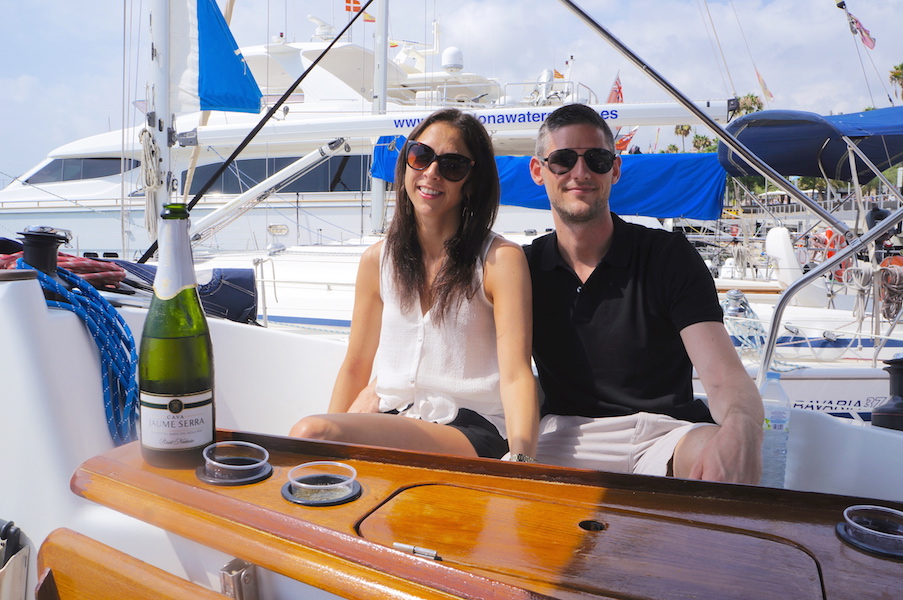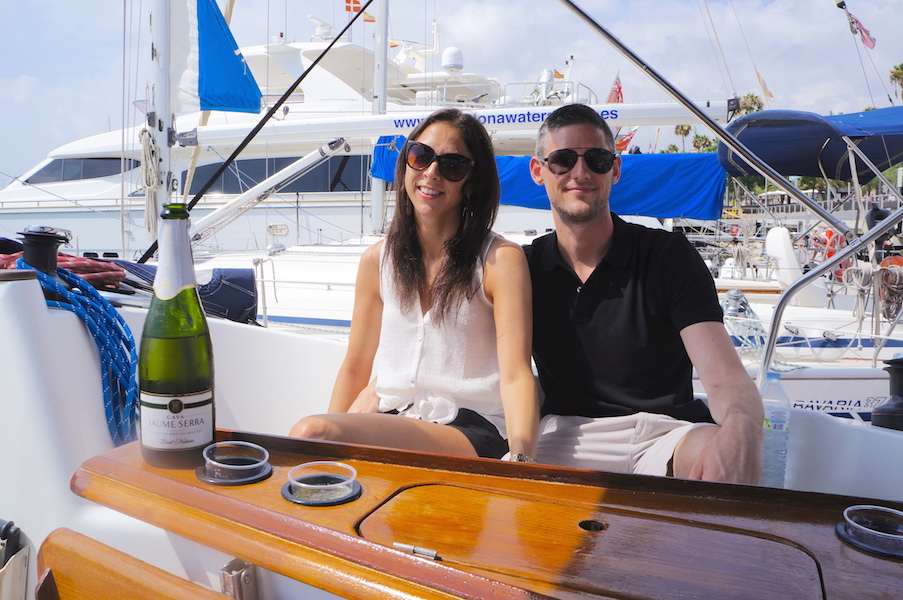 GOING FOR A DIP
About forty-five minutes later the captain stopped and let the boat drift.
– Would you like to swim? she asks.
Five minutes later, we were ready for a dip with our swimwear on.
My travel partner jumped from the deck while I climbed down from the ladder and let my body sink into the clear blue water. For the first time this summer I could actually swim around without hearing my teeth chatter from cold water. The feeling was amazing and I wished we could have stayed out in the water for the rest of the day. But the clock was ticking, and soon it was time to turn the bow back to the city.
We lay down on front deck and let the sun dry our bodies. I inhaled the ocean air and sweet smell of saltwater and… fell asleep.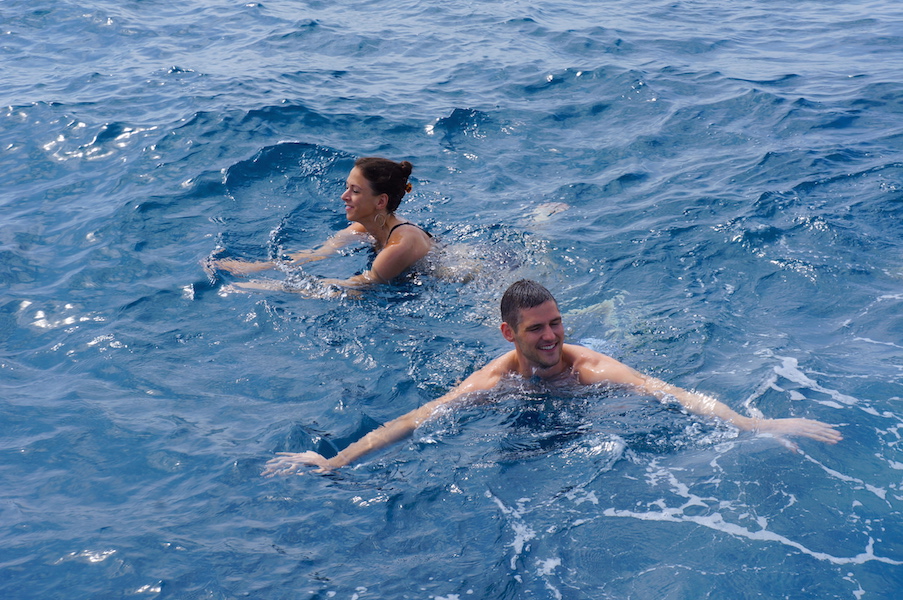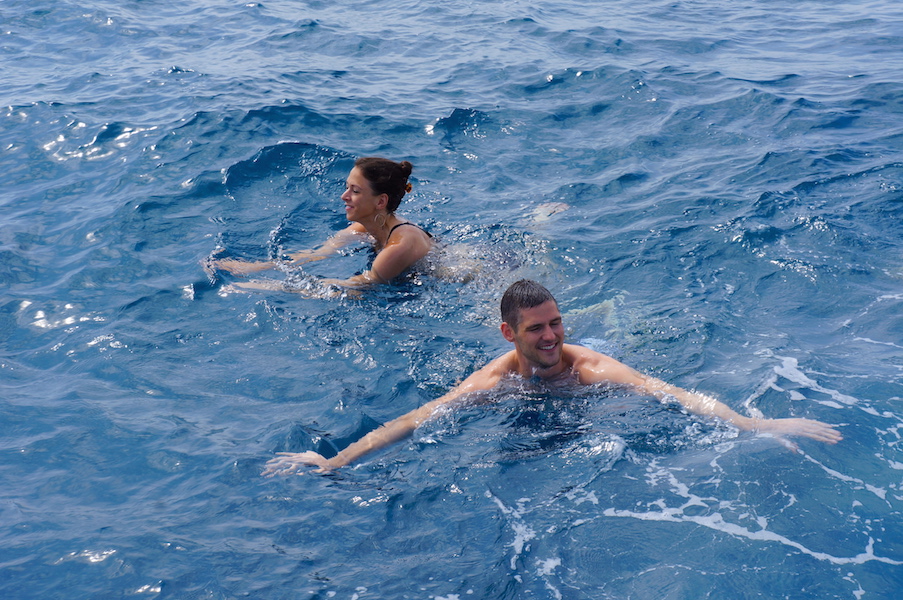 big adventures in little time

About ninety minutes later we were back at the dock. Henrik and I agreed that the time passed quickly, but that in spite of that, we got very much out of it. This is certainly an experience I would like to repeat. I appreciated the friendliness of captain Vicky,  who also patiently answered all of our questions along the way!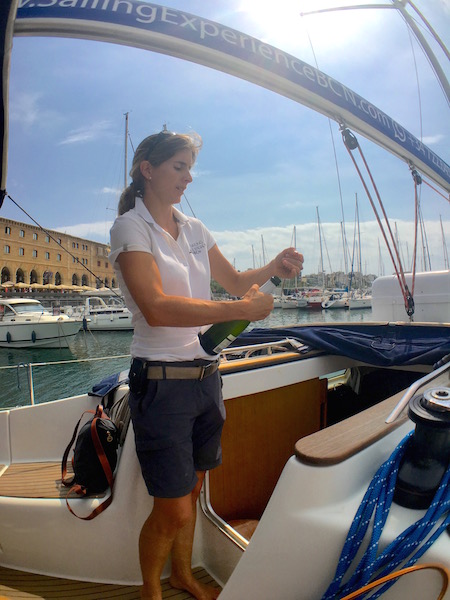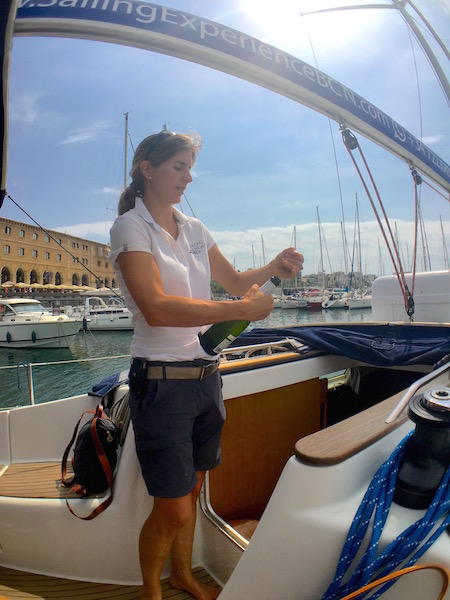 I LOVE MASSAGES!

Lastly on the program of the day was an appointment at Rare Beauty, which is housed in luxurious offices at the same marina. This hair and beauty spa offers everything from manicures to waxing and hairdressing services, but I was there to get an hour long body massage.
The masseuse smiled and presented herself as Mimi. She lead me into the treatment room, which I noticed was pleasantly cool. Not to mention… completely silent.
Fortunately there was also a spacious shower with delicious products. It felt very good to rinse off my sunscreen and the salt water from the sailing tour before the treatment began.
A perfeCt timeout
– How do you prefer the pressure? Mimi asked.
– A bit hard, I replied.
And hard I got! Not so much that it hurt, but enough to notice that something started happening in my muscles.
Rare Beauty used all natural hand blended Mediterranean oil from Alex Carro during my treatment. It had a lovely scent.
Soothing music played in the background. Lying on the bench I said to myself that this is an absolutely perfect timeout after many hectic days in Barcelona. My head and body were reset, and my feet were more or less rejuvenated.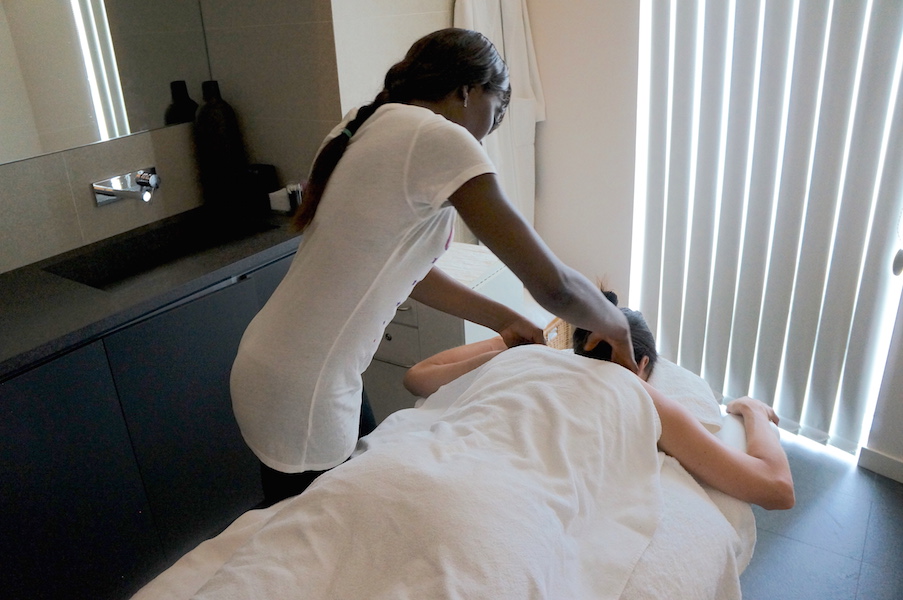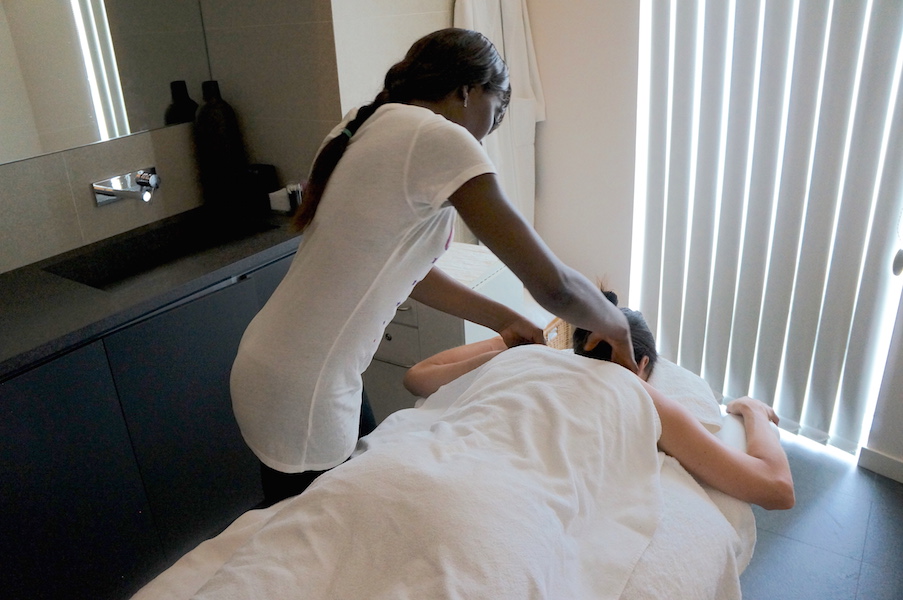 MASSAGE THAT "WORKS!"

I can honestly say that this is one of the best massages I've ever had. Mimi worked properly with rigid areas, and seemed present and focused.
Again the time passed quickly by. Sixty minutes later the treatment ended. I wish I could just lie and enjoy the good feeling for one more hour.
– The most popular treatments are our signature massages, and mani pedi for both men and women, founder Lucie Gardiner told me when I had changed back to my normal clothes.
– It is really lovely to have a spa pedicure when you are coming from a colder climate, to get your feet ready to show off in your prettiest sandals, she added. – And of course a relaxing massage after a long plane journey always makes you feel fantastic!
Rare Beauty's clients also get all the privileges of a OneOcean Club member.
– We can organise a gym or Pilates session for you, or you can enjoy a meal or cocktail at OneOcean Club afterwards, Lucie explained.
But for me, my luxurious day was now over. There was only one thing left to do: Meet Henrik, go to an organic restaurant, discuss everything we had experienced and look through all the pictures!