Hvem smiler ikke når spansk mat kommer på bordet? Jeg bestemte meg for å lære et par triks fra det spanske kjøkkenet, og meldte meg på matkurs.
Skal det være et kaninlår? Eller hva med magesekken til en gris og et par oksetestikler? Reisepartneren min Henrik og jeg befinner oss på La Boqueria, Barcelonas kjente matmarked. Her bugner det også av produkter som oppleves som mindre eksotiske for oss skandinavere. Bod etter bod med spekeskinke, fersk sjømat, juicer, oster, krydder og naturligvis tapas får det til å rumle i magen. Heldigvis skal vi ikke gå sultne lenge. Etter å ha handlet nødvendige ingredienser, er de neste timene viet å lage og spise den lekreste, spanske mat.
Under arbeidet med denne artikkelen har jeg samarbeidet med Barcelona Cooking. De har ikke på noen måte diktert innholdet, eller på noen annen måte påvirket verken tekst eller bilder. Alle meninger er mine egne.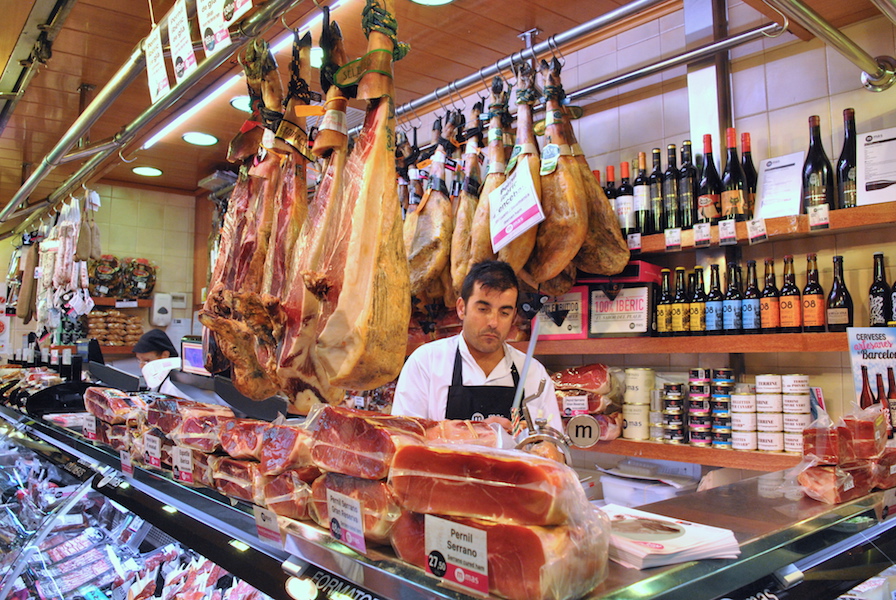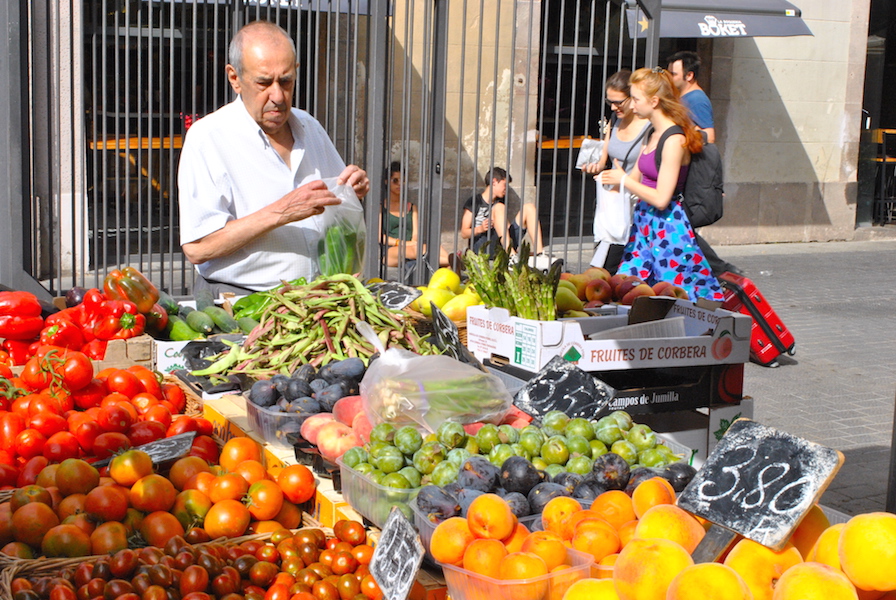 Hjemmekoselige og moderne lokaler
Matkurset vi skal delta på finner sted i de romslige lokalene til Barcelona Cooking, som er lett tilgjengelige fra den kjente gaten La Rambla. Skolen ble startet i 2012, og tilbyr per i dag fem ulike kurs.
Det første som slår meg når jeg kommer inn i lokalet, er at kurskjøkkenet har et hjemmekoselig preg. Alt er rent og moderne, og gir ingen assosiasjoner til upersonlige skolekjøkken. At vinglassene allerede står oppstilt på benken er naturligvis et ekstra godt tegn …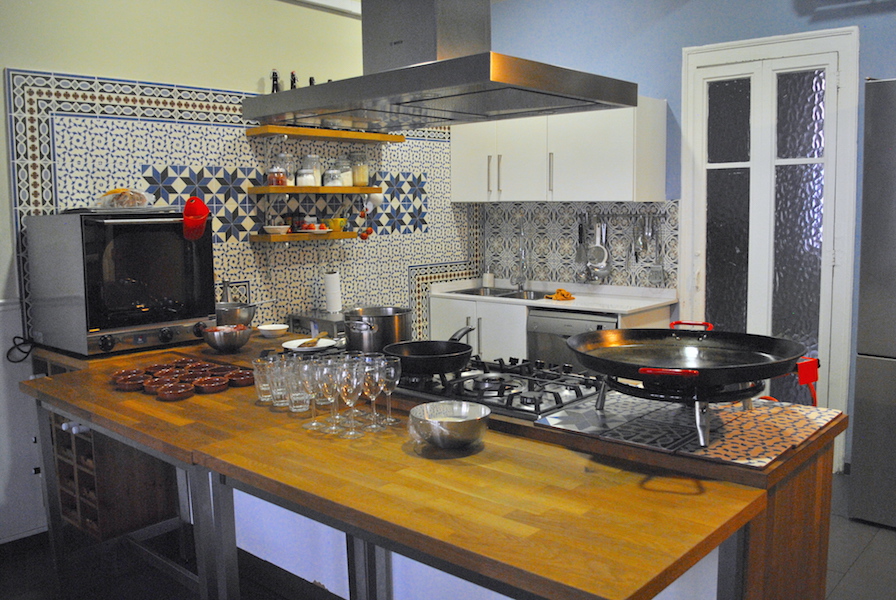 Morsom undervisning
I tillegg til oss to har ni andre personer meldt seg på dagens kurs. De kommer blant annet fra USA og Australia, og stemningen blir fort løs og ledig. Cándido, kokk, kursleder og partner i Barcelona Cooking, deler oss inn i fire grupper som skal ha ansvar for hver sin rett. Han gjennomgår oppskriftene på en morsom og uformell måte. Det skinner tydelig gjennom at dette er en mann som elsker både mat og undervisning. Cándido er tålmodig og flink, og jeg får inntrykk av at han trives med å undervise oss litt småklønete turister mens vi prøver så godt vi kan!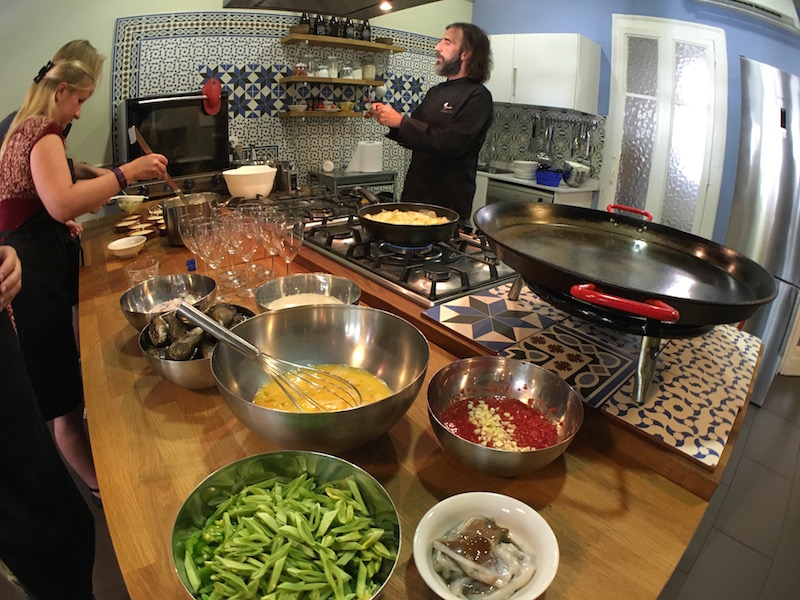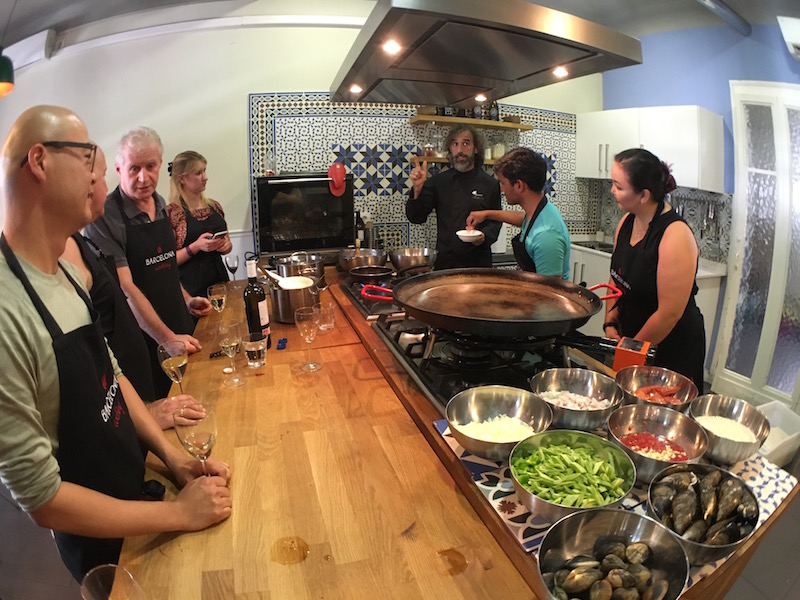 Hjemmelagd paella
Rettene som står på menyen er tortilla española (spansk potetomlett), gazpacho (kald tomatsuppe), paella med sjømat og crema catalana. Konsentrasjonen er på topp, men latteren sitter også løst når vi kaster oss over hakkingen, skrellingen og skjæringen. Utstyret vi benytter virker nytt og av god kvalitet. Cándido deler interessante fakta og lærer bort triks underveis, blant annet hvordan finhakke grønnsaker uten at fingertuppene ligger igjen på fjølen etterpå. Halvveis i matlagingen skjenkes vin i glassene, og arbeidet fortsetter. Hele tiden går Cándido rundt og hjelper til og svarer på spørsmål.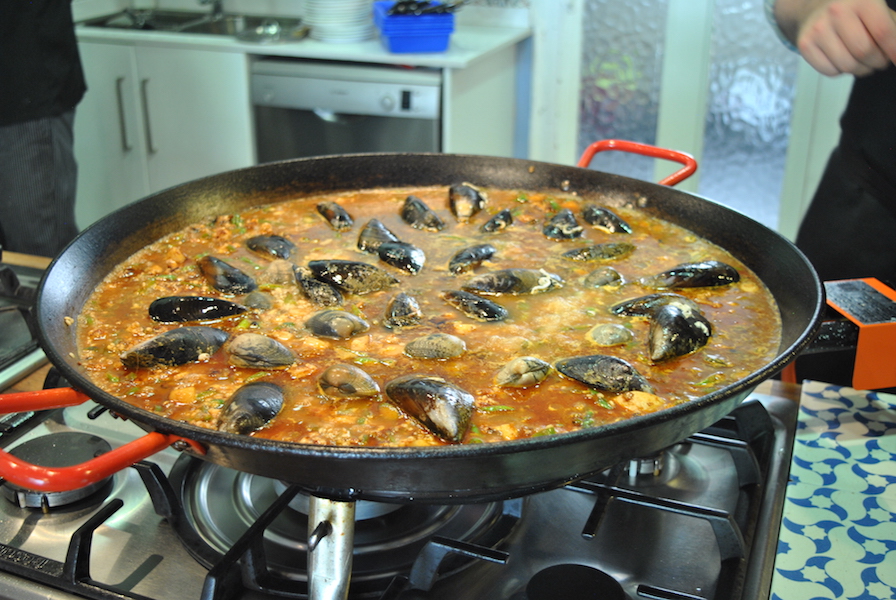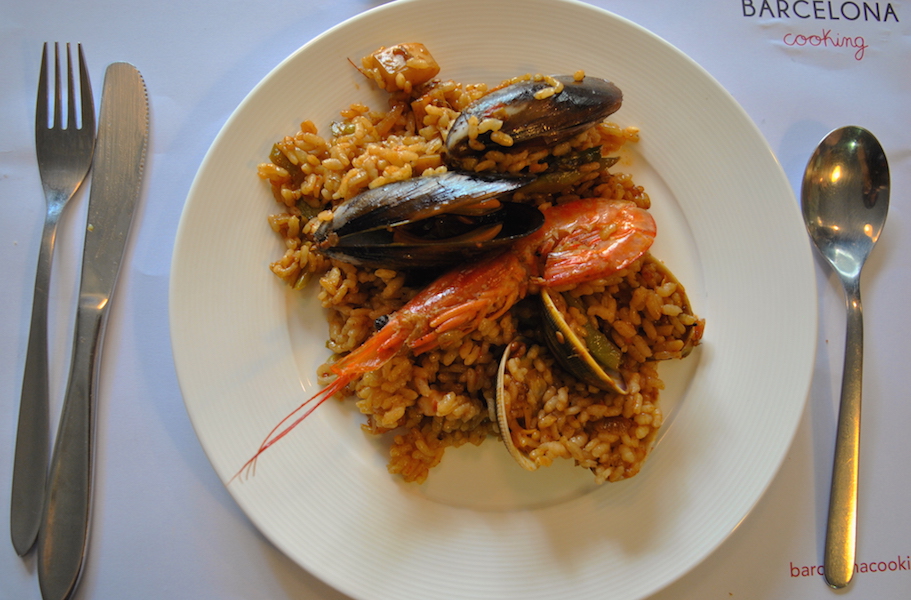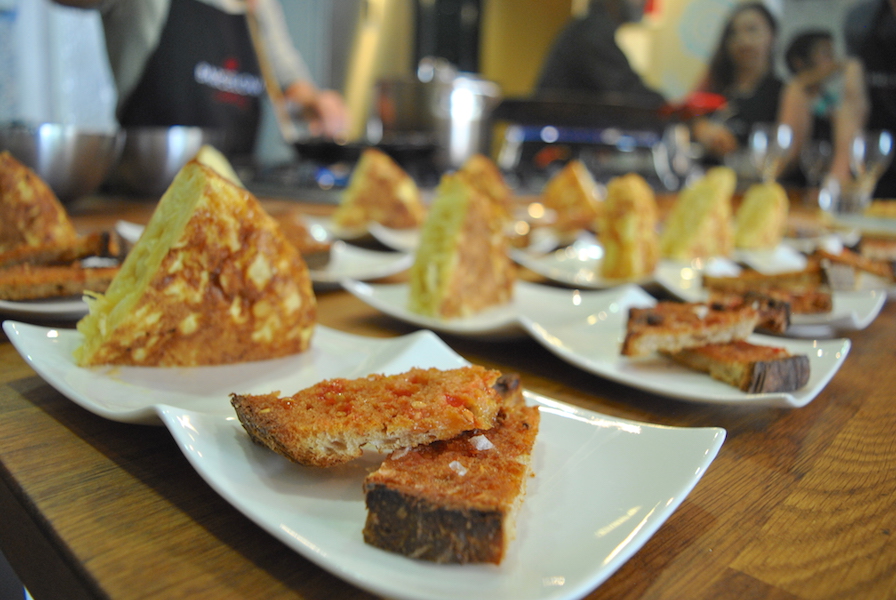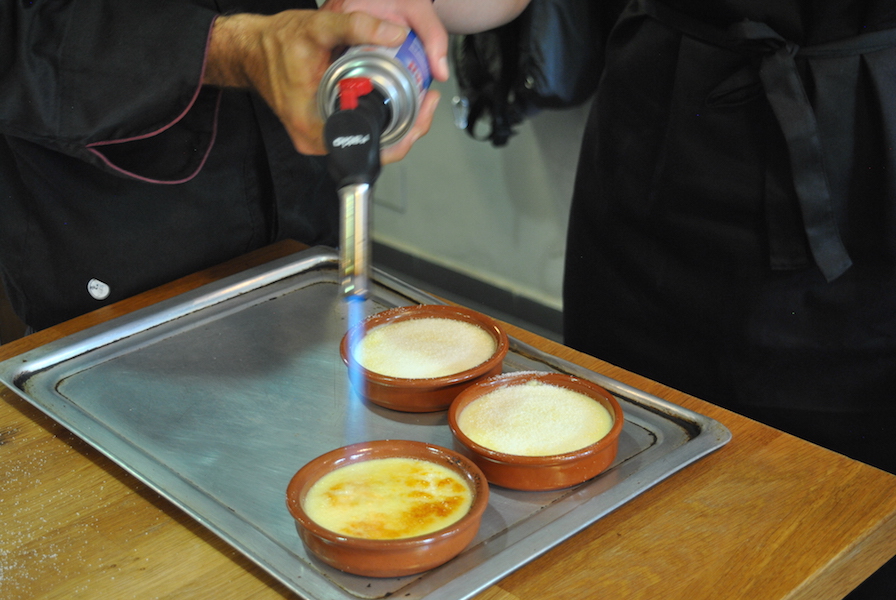 Både undervisning og egenaktivitet
Henrik og jeg har havnet på gruppen som tilbereder paellaen, og selv om jeg ikke fikk bidratt direkte på alle de andre rettene synes jeg alt i alt dagen var en fin kombinasjon av demonstrasjon, observasjon og egne oppgaver. Vi fikk lagd og lært så mye som er praktisk mulig med elleve personer og fire timer til rådighet!
Ønsker du derimot å selv tilberede alle rettene fra start til slutt, vil jeg anbefale å booke et privatkurs.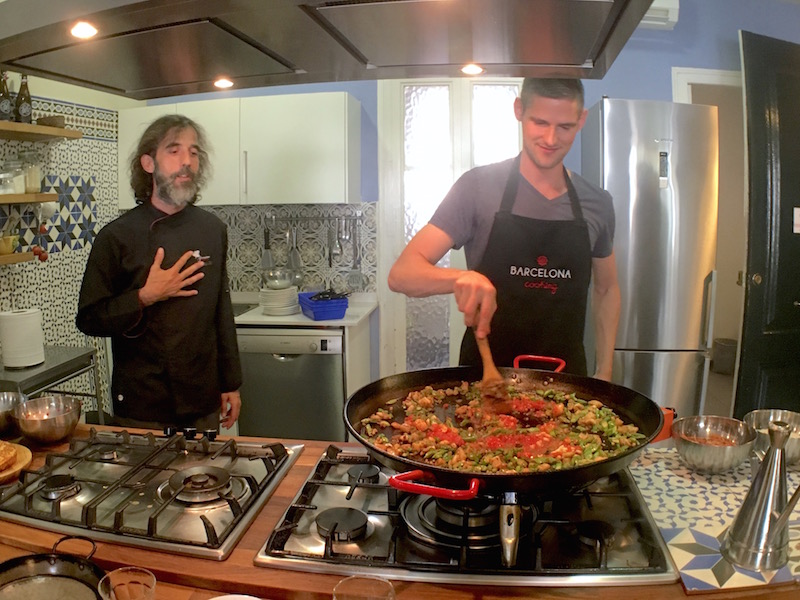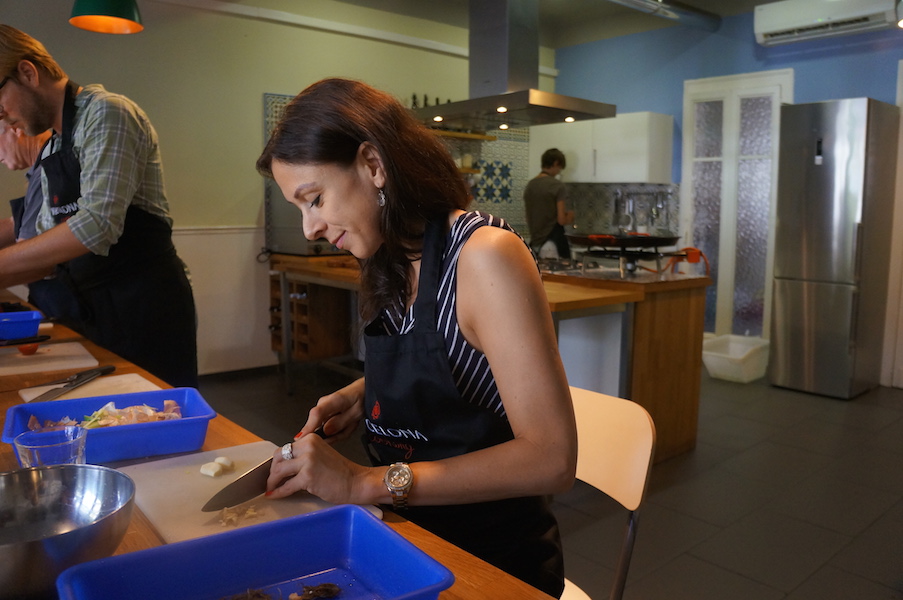 – Den beste paellaen jeg har smakt
Når lokalet til slutt fylles av aromatiske dufter fra de ulike matrettene, melder sulten seg igjen. Etter tre og en halv times «strev», venter endelig belønningen. Bordet dekkes, og den lekkert anrettede maten serveres sammen med rikelig mengder vin.
– Dette er den beste paellaen jeg noen sinne har spist, sier forretningsmannen fra New York som sitter tvers overfor meg på bordet.
Selv blir jeg overrasket over hvor frisk og smakfull gazpachoen er, og jubler når jeg tilbys en ekstra porsjon som er til overs! I aaall beskjedenhet: Med god hjelp av Candido har vi elleve amatørkokker faktisk lagd et fireretters måltid som mer eller mindre kan måle seg med en del av det jeg har fått servert ute noen steder i Barcelona. Hurra! Og med den stoltheten i bunn smaker nok maten ENDA litt bedre …!
Fire timer etter oppstart forlater vi kurskjøkkenet med stappfulle mager, et digitalt oppskriftshefte i innboksen og et morsomt ferieminne rikere. Nå venter naturligvis … stranden! 🙂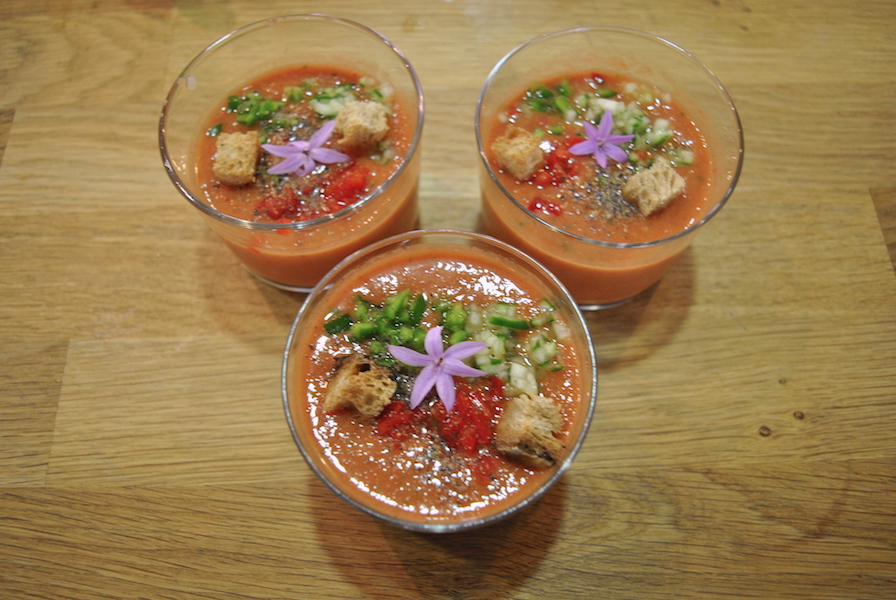 Ble du sulten av å lese artikkelen? Prøv å lage en av rettene selv! Her er oppskriften på den friske, spanske tomatsuppen gazpacho.
GAZPACHO
4 porsjoner
6 tomater
1/2 agurk
1 hvitløksfedd
1 liten grønn paprika
1/2 rød paprika
300 ml vann
1 lyst rundstykke/brødskive
2 ss sherryeddik
2 ss olivenolje
Flå tomatene og kutt grønnsakene i grove biter.
Legg til side rundt 50 gram av agurken og paprikaene, og kutt det opp i bittesmå terninger. Dette skal senere brukes som garnityr.
Dynk brødet i vann og eddik. Legg alle grønnsakene i en bolle, ha oppi brødet og blend alt til en fin masse mens du heller oppi olivenolje.
La suppen stå i kjøleskapet minst en time. Strø garnityren over før du serverer.
[:en]
Who doesn't smile when Spanish food comes to the table? I decided to pick up a few tricks from the Spanish cuisine, and joined a cooking class.

Would you like some rabbit meat? Or what about pig stomach or a pair of bull testicles? My travel partner Henrik and I found ourselves at La Boqueria, Barcelona's famous food market. Lucky for us, it also was bursting of products that are less exotic for us Scandinavians. Stall after stall with ham, fresh seafood, juices, cheeses, spices and of course tapas, made my stomach rumble. Fortunately, we did not go hungry for long. When we were done buying the necessary ingredients, the next few hours were devoted to preparing and eating the most delicious Spanish food.
This article was made in collaboration with Barcelona Cooking. All descriptions reflect my own opinion, and the business has had no influence on the content of this review.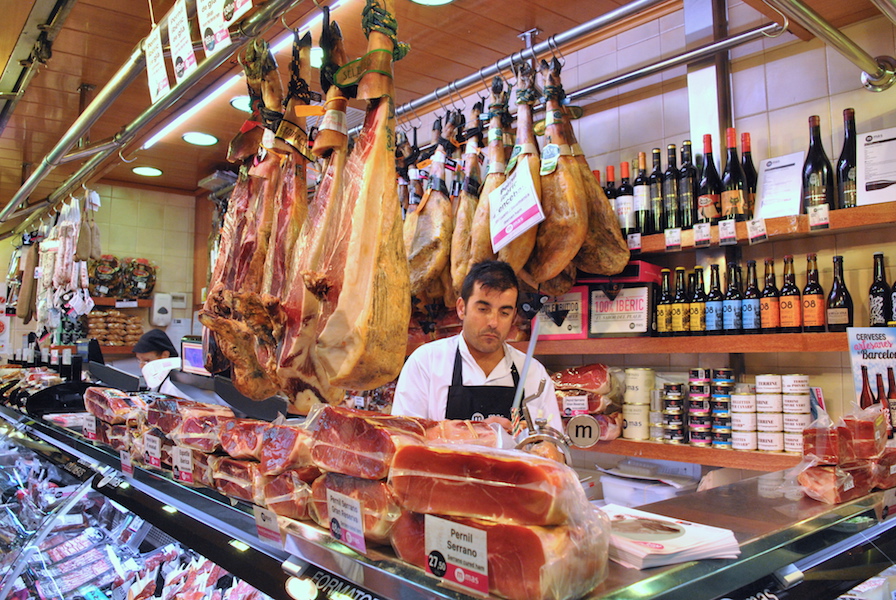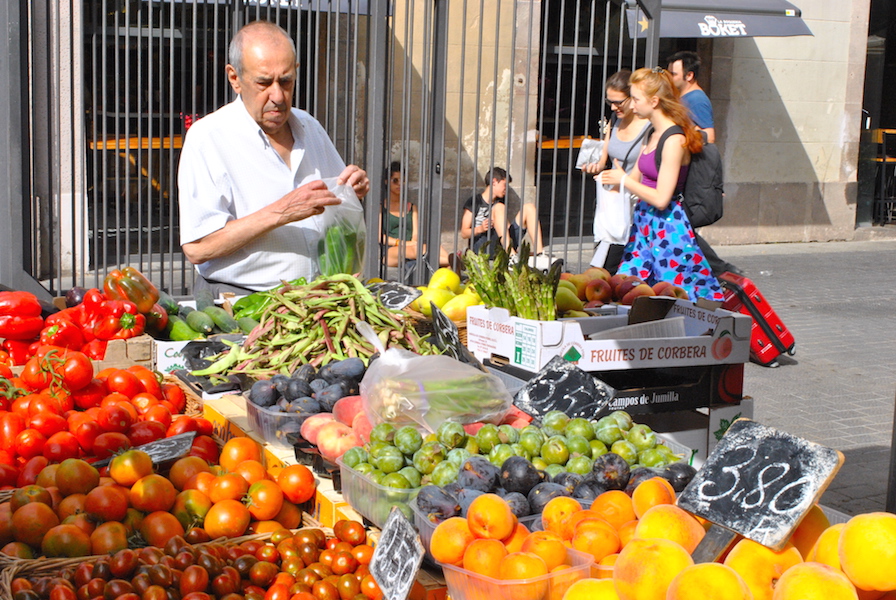 Homely and modern FACILITIES
The cooking class we attended took place in the spacious premises of Barcelona Cooking, which is easily accessible from the famous La Rambla. The school opened in 2012, and currently offers five different classes.
The first thing that struck me when I stepped into the room, was that the kitchen had a homely feel to it. Everything was clean and modern, and nothing reminded me of my old school kitchen. The fact that the wine glasses were already lined up on the bench, was of course, extra promising…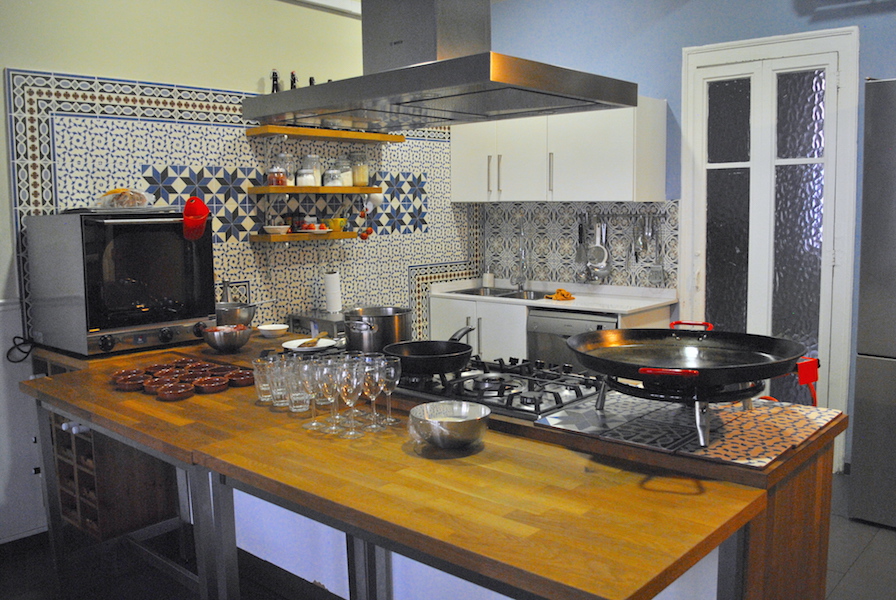 LEARNING AND LAUGHING
In addition to the two of us, nine other people signed up for this course. They came from the US and Australia, and the atmosphere quickly became friendly and laid back. The chef and teacher, Cándido, split us into four groups. Each group was responsible for their own dish. He went through all four recipes in a fun and informal way. It was clear that this man loves both food and teaching. Cándido is patient and clever, and I got the impression that he really enjoys teaching us clumsy tourists as we do our best!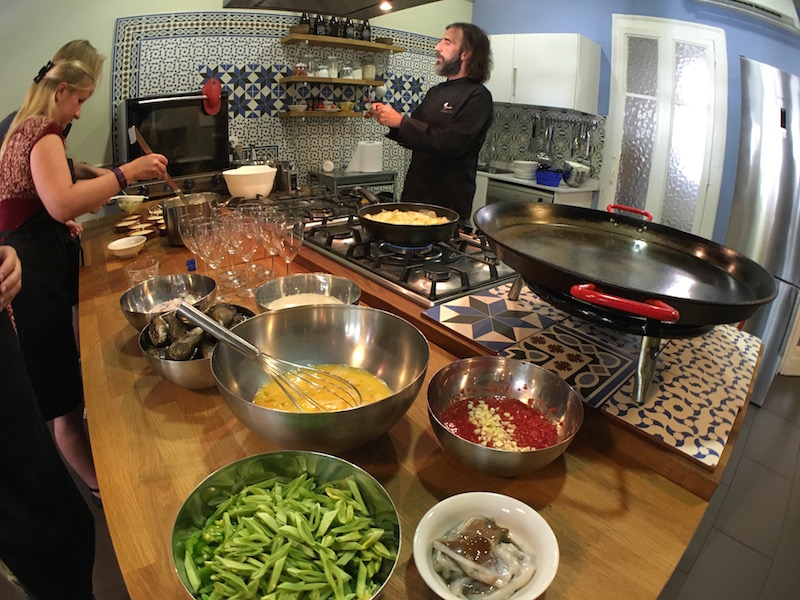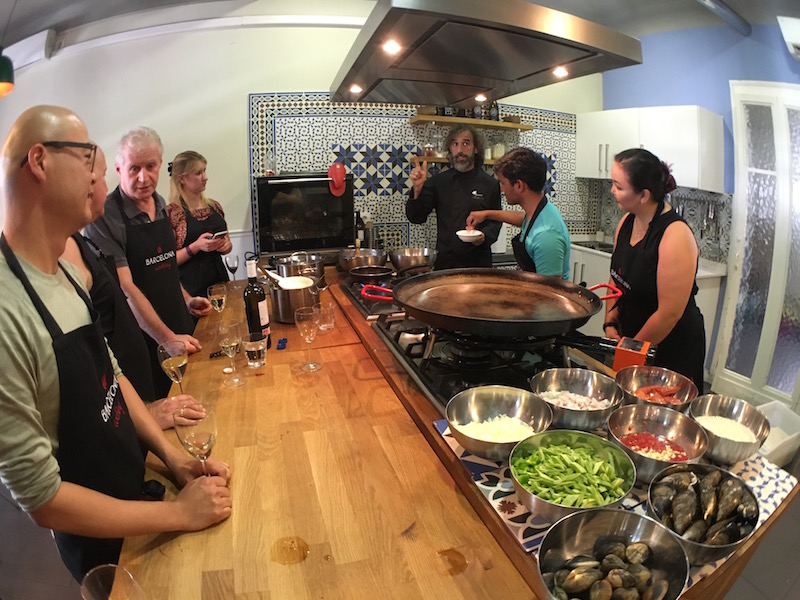 HOMEMADE paella
The dishes on the menu were tortilla española (Spanish potato omlett), gazpacho (cold tomato soup), paella with seafood and crema catalana. All the participants were focused, but there was also a lot of laughing as we chopped, peeled and cut. The equipment we used seemed new and of good quality. Cándido shared interesting facts and taught us clever tricks along the way, including how to chop vegetables without leaving a fingertip on the cutting board. Halfway through the class our glasses were filled with wine, and then the work continued. The whole time Cándido offered to help us, and answered all of our questions.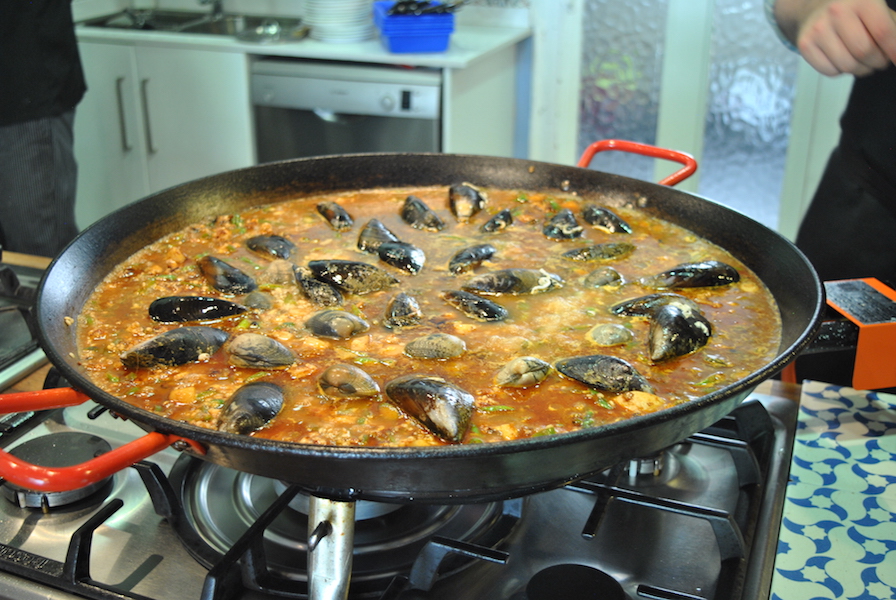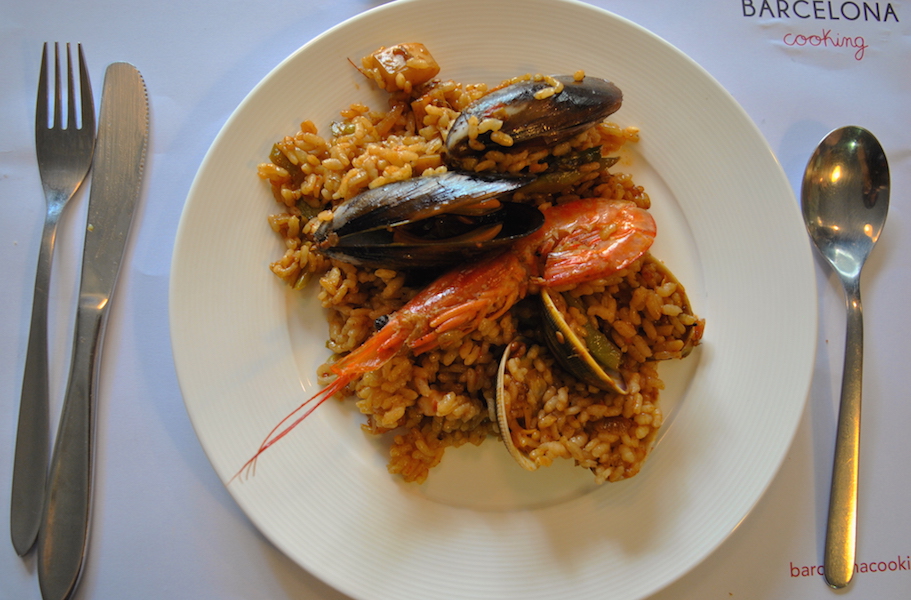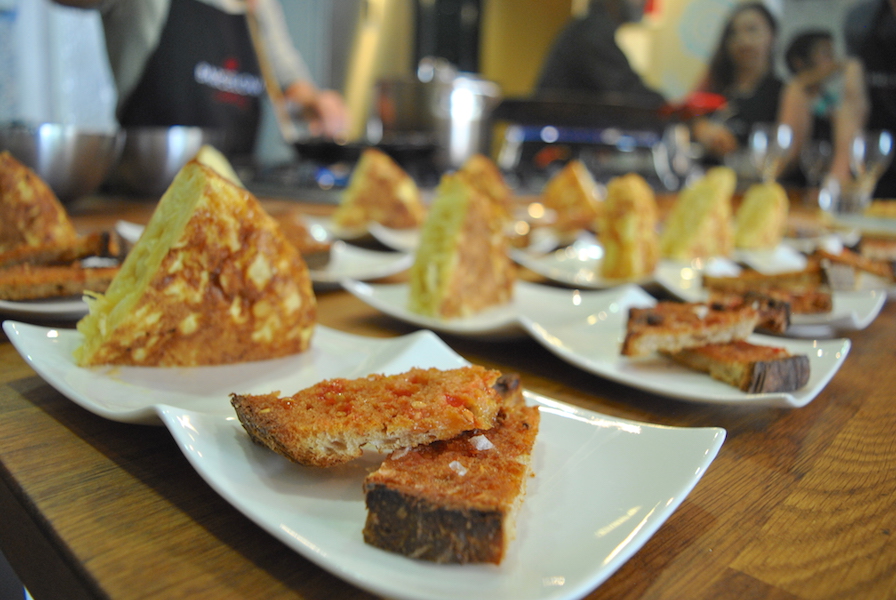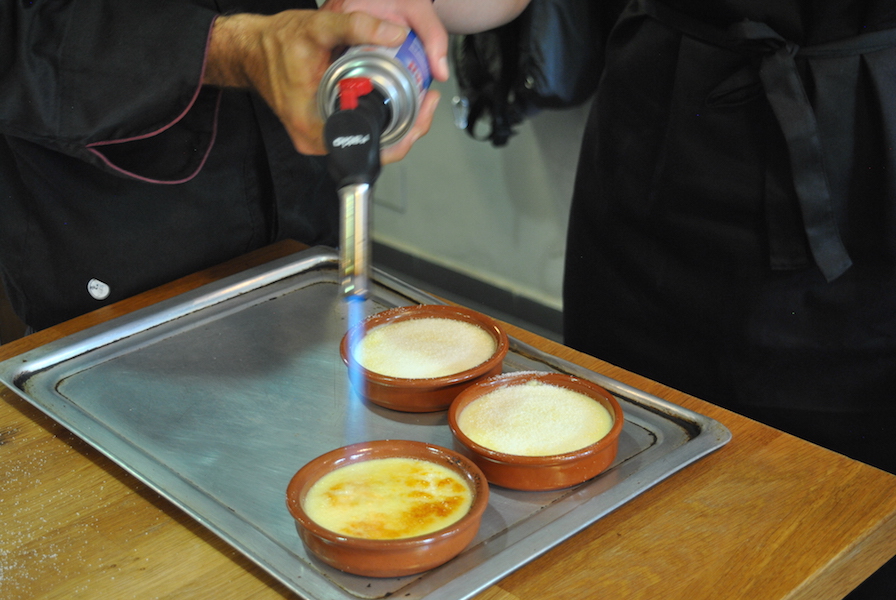 GOOD COMBINATION

Henrik and I ended up on the group that prepared the paella, and although I did not contribute directly to all the other dishes, I think the day had a nice combination of demonstration, observation and our own tasks. We all cooked as much as possible with eleven people in the room and four hours at out disposal!
However if you are looking to prepare all of the dishes from start to finish, I would recommend booking a private class instead.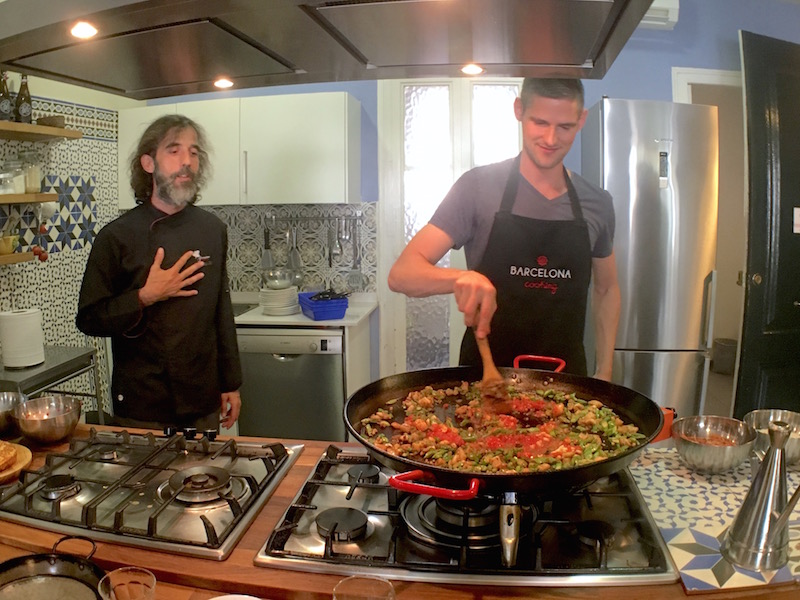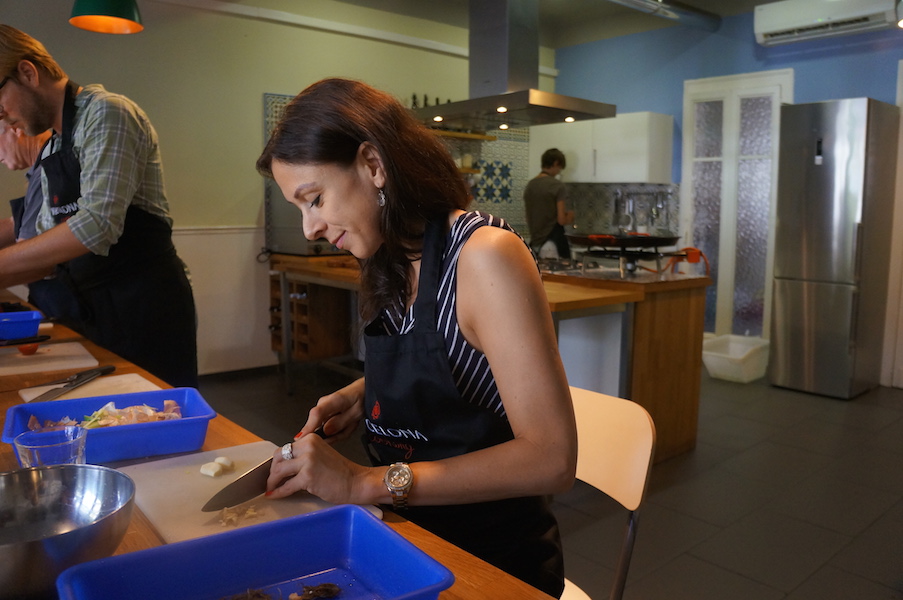 – THE best paella I EVER Tasted
Soon the kitchen was filled with aromatic scents of the various dishes that were being prepared. After three and a half hours' works, it was time to reap our reward. The table was set, and the pearly-prepared food is served with ample amounts of wine.
– This is the best paella I ever tasted, said the businessman from New York who sat opposite me at the table.
I was amazed at how fresh and flavorful the gazpacho is, and rejoiced when I was offered an extra portion! In all modesty: With the help of Candido, we, eleven amateurs, made a four course meal which more or less matched some of the dishes I have been served in Barcelona. Hurray!
Four hours after we walked around at the food market, we left the kitchen with bulging stomachs, a digitally delivered recipe in our inboxes and a fun memory richer. Only one thing remained to make this day complete… a nap on the beach!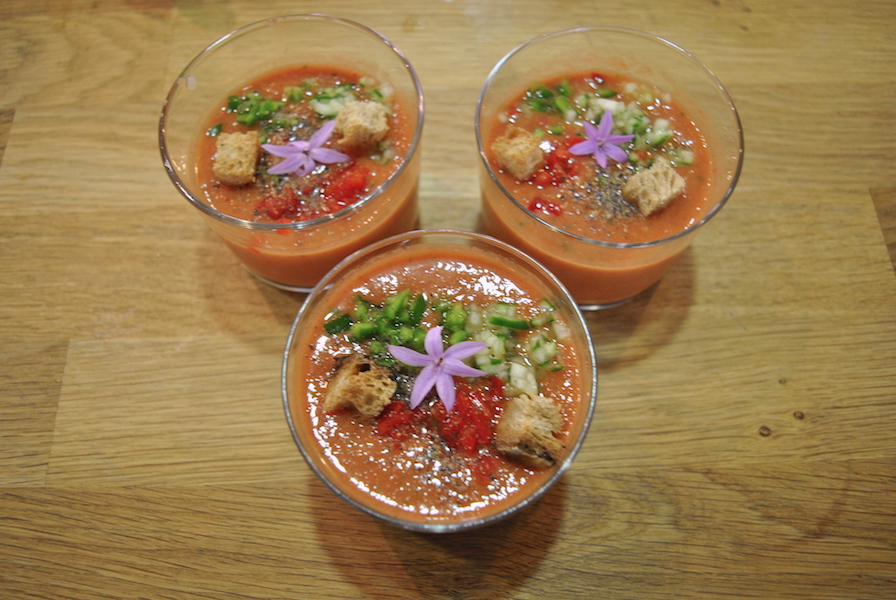 Did reading this article make you hungry? Try making one of the dishes yourself! Here is the recipe for the healthy, Spanish tomato soup.
GAZPACHO
6 tomatoes
1/2 cucumber
1 garlic clove
1 small green pepper
1/2 red pepper
300 ml water
1 slice of bread
2 tbsp sherry vinegard
2 tbsp olive oil
Firstly grate the tomatoes and cut up all the vegetables.
Then set aside about 50g of the cucumber, green pepper and red pepper and dice them very finely to garnish the gazpacho.
Soak the bread in the water and the vinegar. Then, in a bowl, mix all the vegetables together and pour the soaked bread in and blend while adding olive oil to emulsify.
Refrigerate it for at least 1 hour. Garnish and serve.
[:]